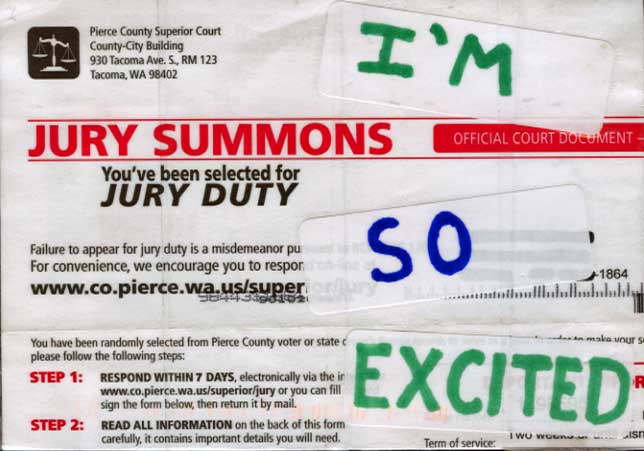 I've received a Jury Duty summons 4 times in my life, so far. Of those 4 times I gone through Jury selection once. The time I went through Jury selection I could tell the Judge and attorneys liked me and were a little sad to see me go when the Judge had to excuse me for a pre-scheduled vacation. (I was going to Tijuana for a week, with my church, to build houses for the less fortunate. The Judge wasn't about to tell me I had to stay). Why were they sad to see me go? Because I actually wanted to be there.
The majority of people the court house deals with are trying to think of any way they can to get out jury duty. Google "Jury Duty", there are like a bajillion websites on how to get out of Jury Duty. I want nothing more than to actually serve on a Jury. Am I crazy? According to most people yes.

Tell someone you have to go to Jury Duty and they roll their eyes, tell you their sorry or wish you luck. I'm excited. Sure, I don't want to wake-up earlier and drive farther than I would to go to work to get to the Court House, but the process fascinates me. I'd liked to, at least once, go all the way through jury selection, serve on a jury, deliberate etc. I think it would be really interesting.

Why am I bringing this up now? I reported for Jury Duty on Monday. I was really excited to spend some time with a book (one I started before the wedding and have yet to finish. School really gets in the way of my book reading) and possibly get on a jury. Around 10 o'clock I was chosen to come back on Thursday for jury selection on a long trial. I later came to find out (after to phone calls to the court house regarding my class schedule interfering with the trial and the amount of time my employer will pay for me to be on a jury) I found out the trial would be 3 months long.

Today I reported back to the court house and learned about a truly fascinating case that I would not be able to serve on because stupid life is getting in the way. Not only can I not live on $15/day once my 10 days with my employer runs out, but I have class Tuesday mornings starting in January, when the trial starts. The little bit of information (and the 22 page questionnaire I filled out) led me to believe a trial like this would challenge me and my beliefs, in a way I haven't been in a really long time.

It's a good thing I take my last final, for the quarter, tonight. I need to read a book or take on a hobby that will stimulate a different part of my brain.

Question 1 - Am I alone? Does anyone else want to serve Jury Duty?
Question 2 - Any good book recommendations? (I don't like historic fiction)